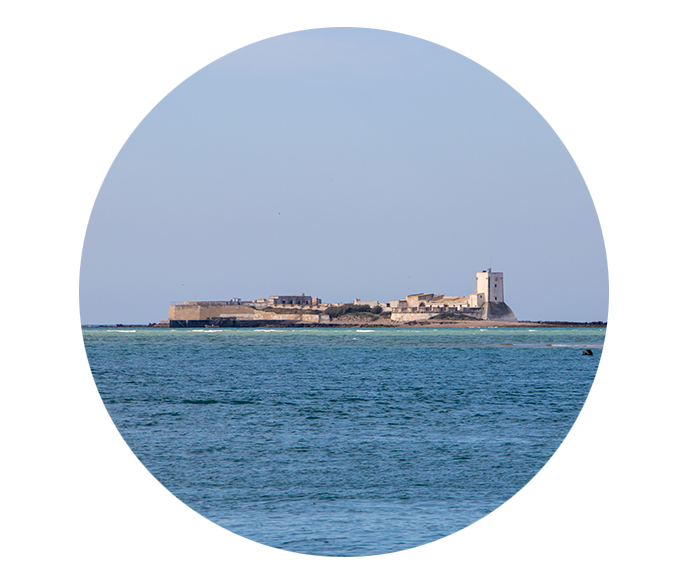 The history of the Castle Sancti Petri
Warning
: Undefined array key "tabs_tab_align_tablet" in
/var/www/vhosts/novojet.net/httpdocs/wp-content/plugins/atlets-core/includes/elementor/widgets/wgl-tabs.php
on line
750
Warning
: Undefined array key "tabs_icon_position_tablet" in
/var/www/vhosts/novojet.net/httpdocs/wp-content/plugins/atlets-core/includes/elementor/widgets/wgl-tabs.php
on line
753
Warning
: Undefined array key "tabs_icon_position_mobile" in
/var/www/vhosts/novojet.net/httpdocs/wp-content/plugins/atlets-core/includes/elementor/widgets/wgl-tabs.php
on line
754
Few monuments on the Atlantic coast exert as much magnetism on those who sight and visit it as the Castle of Sancti Petri, a fortress at whose feet, the story goes, is one of the most relevant temples of antiquity, that of the god Melkart (God of commerce). and the navigators), eternal resting place of the almighty Hercules.
Located in front of the emblematic tuna fishing village of Sancti Petri and linked to the peninsula by a Roman road that, by magic, is revealed to us by low tides. A privileged balcony on the Chiclanera coast, it concentrates all its magic in its indescribable sunsets or on warm summer nights, when it becomes a privileged vantage point for stargazing.
If you visit it, it will conquer you forever.
How can I visit the Castle of Sancti Petri?
Kayak visit to the castle
You can enjoy the castle and its surroundings paddling in kayaks.
It is an activity that even the little ones can do.
Of course, we will advise you when the tides will be so that both the going and the return are easy.
You can do a free rental, that our instructors will give you some small guidelines or on some of our organized routes.
In our facilities you can also buy the entrance to the castle (COMES WITH A DRINK)
Minimum duration 2 hours.
You have doubts? call us 
(+34)956 494 932
Or send us a Whatsapp at
+34 644 790 572
[contact-form-7 id="6023" title="contacts"]